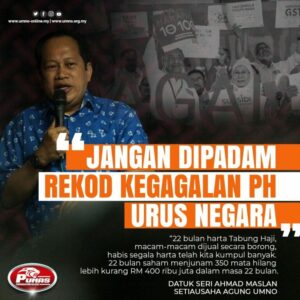 PEKAN, June 24 – UMNO secretary-general Datuk Seri Ahmad Maslan has warned the people not to erase Pakatan Harapan (PH)'s failure in governing the country for 22 months.
He said not only was the country 'in darkness' due to the failure of PH but their government had collapsed as a result of the failure of its parties and the struggle of the prime minister.
"In the end the government fell because of the injustice they committed. The period 22 months of religion insulted, kings insulted, jawi insulted, civil servants humiliated … all kinds of things they were insulted.
"The 22 months of the Hajj property have been on wholesale, and all of our assets have been accumulated, 22-month shares plunged 350 points to lose about RM400,000 million in 22 months. Destruction by Lim Guan Eng as Minister of Finance.
"All the people know what I mean, I just want to remind them of the 22 months of darkness, the times of despair under PH, there was no hope at all. This is where we must seek justice," he said during a news briefing on Chini by-election here on Tuesday night.
Also present were Pahang UMNO deputy chairman Datuk Seri Hasan Arifin who is also Rompin Member of Parliament, Pahang State Exco Mohamad Fakhruddin Mohd Ariff and BN candidate Mohd Sharim Md Zain. Others were state UMNO Youth Movement chief Mohd Farid Mohd Nor and Pekan UMNO Youth Movement chief Datuk Mohd Nizar Najib.
The Pontian MP added that in addition to mistreating the people, PH has also set up about 10 selective prosecutions against UMNO leaders like ex-Prime Minister Datuk Seri Mohd Najib Tun Razak and UMNO President Datuk Seri Dr Ahmad Zahid Hamidi.
On other matters, the former Deputy Minister of Finance said second Prime Minister Tun Abdul Razak Hussein's contribution in establishing Felda scheme was enormous.
Clearly, besides successfully saving over one hundred thousand families from the shackles of poverty, the Felda module is also a worldwide example, and Najib's vision continues.
"Najib wants to make Felda a new economic power in our country. The new Felda chairman Datuk Seri Idris Jusoh  had said that the land scheme is a 'gold mine' but it depends whether the individual has the potential to develop it or not.
"While Datuk Najib took care of Felda, many changes were made … so that Felda could reach not only the country but all over the world. The children of the settlers were sent to study in exclusive disciplines, including how to repair the plane, "he added.
He added that Najib inspiration when it is like to make the Felda community, the majority of Malays to be the best example for the rural community.
During the talk, BN candidate Mohd Sharim, who is also from the second generation of Felda, also introduced himself and urged voters in Chini constituency to vote for him where he is determined to take responsibility and trust as best he can.
Last night's talk was the first in a series of campaign talks in Chini, conducted in compliance with the guidelines of the Restricted Movement Control (PKPP) Order as set up in closed areas with limited attendance, attendance, social incarceration and personal sanitation to the attention of the Royal Malaysian Police (PDRM) and the Election Commission (EC) monitoring team. – UMNO ONLINE