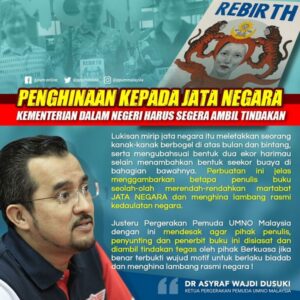 KUALA LUMPUR, June 29 – UMNO Youth Movement urges writers, editors and publishers of books that insult the Jata Negara to be investigated and taken seriously by the authorities if it is proven that there is a motive for being rude and insulting.
Its chief Datuk Dr Asyraf Wajdi Dusuki said the Ministry of Home Affairs should also take immediate steps to suspend the publication and distribution of the book in order to prevent it from being left behind, thus lowering the country's image in the eyes of the world community.
This act clearly illustrates how the author of the book seems to undermine the dignity of the National Assembly and to insult the official emblem of national sovereignty, he said.
"Section 5 of the Coalition and Names (Preventing Unlawful Use) Act 1963 provides for up to three years imprisonment and a fine of up to RM 20,000.00 for improper use of national symbols including state code," he said in a Facebook statement.
Dr Asyraf was commenting on social media users sharing a link to a book company Facebook page, Ilham Books, at [
https://m.facebook.com/story.php?story_fbid=3961434060565004&id=597490066959437
] advertising a book entitled "Rebirth: Reform, Resistance, And Hope In New Malaysia" (ISBN: 9789672165811) edited by author Kean Wong, which features a country-like logo that has been modified as a home decorator.
The state-of-the-art painting puts a child naked on the moon and stars, adapting the shape of two tigers and adding a crocodile to the bottom.
Dr Asyraf added that it is clear that the new law amended by increasing the 20-year sentence in 2016 has not been enough of a shock to some to openly insult the official emblem of the country, through the publication of such books.
DR ASYRAF WAJDI DUSUKI
Pemuda Chief