KUALA LUMPUR, Sept 25 – Datuk Seri Dr Ahmad Zahid Hamidi says the defeat in the last general election on 8 May 2018 is a lesson for Barisan Nasional (BN).
It reminds BN of how devastative slander and lies were, besides getting back the declining support and getting through harrowing times caused by some traitors in the political pact. However, he said BN is now crawling back to where it used to be.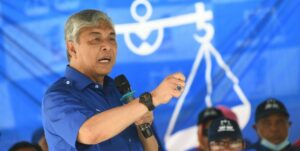 "Slanders onslaught must be overcome with wisdom, integrity and honesty. We must also understand the people's aspiration and at the same time put the country in style again," he said in a FB posting.
The Bagan Datuk Member of Parliament urges all Malaysians to trust BN as the only political pact that can administer the country well.
"Our decades of good track record have said it all. The economy, people's wellbeing, integration and others were taken care of.
"The aftermath of the black episode of 9 May 1969 must be put aside. Make it as an unforgettable lesson. Together we will start again. Join BN to regain the prosperity we used to achieve," he said.