BERA, Sept 11- Prime Minister Datuk Seri Ismail Sabri Yaakob says he is yet to discuss the general election date with Umno's Top 5, who are party President Datuk Seri Dr Ahmad Zahid Hamidi, his deputy Datuik Seri Mohamad Hasan dan vice-presidents Datuk Seri Mohamed Khaled Nordin and Datuk Seri Mahdzir Khalid .
The matter, he says will only be finalised after meetings with Top 5, MCA and MIC in Barisan Nasional.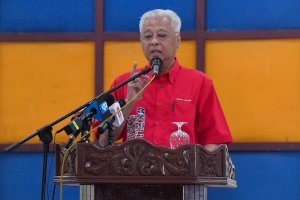 "It will then brought to the Cabinet because as stipulated in the Constitution, the Cabinet must give it a nod before I get the King's consent," he said here, today.
He somehow gives indication that the 15th general election is 'around the corner'.