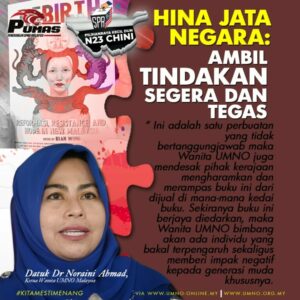 1. WANITA UMNO urged the Home Ministry to take immediate and decisive action against individuals who have modified the emblem of the National Assembly as they have insulted not only the official emblem of Malaysia but the country of Malaysia itself.
2. In addition to the use of Section 5 of the Symbol and Names (Preventing Unlawful Use) Act 1963, which provides for a jail term of up to 3 years and a fine of up to RM20,000, the Sedition Act may also be imposed because it openly seeks to cause dissatisfaction or disloyal to the Yang di-Pertuan Agong but it also seemed to spread hatred between race and religion.
3. Wanita UMNO also urges the government to ban this book from any bookstore. If this book is successfully distributed, it is afraid that there will be individuals who will be affected and negatively impact the younger generation in particular.
4. This is a serious matter and should not be taken lightly. Hence, Wanita urges the authorities to take immediate action.
NORAINI AHMAD
Wanita Chief