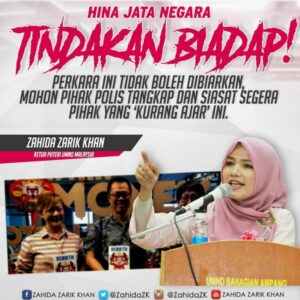 KUALA LUMPUR, June 29 – Puteri UMNO Malaysia urges the police to take immediate action by arresting, investigating and prosecuting individuals and groups involved in contempt of the National Emblem under the Sedition Act.
Its chief Datuk Zahida Zarik Khan also urged the Home Ministry to act promptly by withdrawing and immediately terminating the printing permit of the company involved in the book's publication.
"We believe the book titled 'Rebirth: Reform, Resistance, And Hope In New Malaysia' has been published and passed on in the Pakatan Rakyat (PH) era.
"The emblem has been the official symbol used by His Majesty the Yang di-Pertuan Agong. So this act of contempt seems to be disrespectful and tries to tread on the country's top institutions," she said in a Facebook post.
She added that the country does not need extremist groups trying to instill doctrine, spread propaganda and threaten the country's stability and security.
The state-of-the-art painting puts a child naked on the moon and stars, adapting the shape of two tigers and adding a crocodile to the bottom
ZAHIDA ZARIK KHAN
Puteri Chief