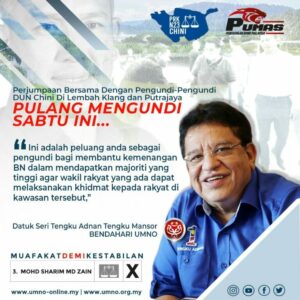 PUTRAJAYA, July 2 – UMNO Treasurer, Datuk Seri Tengku Adnan Tengku Mansor has called for Chini State Assemblymen by-election voters to come back home to vote on Saturday and elect Barisan Nasional (BN).
He said Chini constituencies who were in the outskirts of the country must return home and exercise their right as voters.
"This is your chance as a voter to assist the BN's victory in securing a high majority so that the elected representatives can serve the people in the constituency," he said.
He, who is also the Putrajaya Member of Parliament, said this at a joint meeting with voters of Chini state constituencies in the Klang Valley and Putrajaya last night.
He said a strong mandate must be given to the BN with all voters exercising their responsibility to select the available candidates.
"These representatives will be the voice of the people by striving to bring about development, progress and ensuring the well-being of the people, so this is an important time for voters to work together to ensure the direction of the Chini people is secured by voting for the BN," he added.
In the by-election this Saturday, BN fielded Felda Chini's second-generation Mohd Shahrim Md Zain, 41, who is also chairman of the Kuantan Felda Youth Council to defend the BN seat.
The Chini by-election was held following the death of incumbent Datuk Seri Abu Bakar Harun, 60, on May 6 at the Kuala Lumpur Hospital due to a heart attack. Abu Bakar has represented the people since the 11th General Election.
In the last GE-14, Abu Bakar won by 4,622 votes after securing 10,027 votes against PAS candidate Mohd Fadhil Noor Abdul Karim who received 5,405 votes while PKR's Mohamad Razali Ithnain received just 1,065 votes.