PEKAN, July 5 – UMNO secretary-general Datuk Seri Ahmad Maslan says the overwhelming victory won by the Barisan Nasional (BN) in the Chini by-election injects confidence to the party should general election is held at anytime from now.
He said that in the past when losing in the GE-14 the BN symbol was considered outdated, it is not the case now as the past six victories in the by-elections reflected how much BN is winning back the hearts of the people.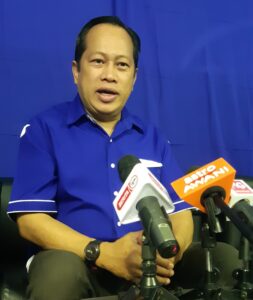 "One of the major factors is the might of our machinery to do the job of taking everything seriously. We know that Independent Tengku Hisham (Datuk Tengku Zainol Hisham Tengku Hussin) certain people behind him, that he has met Tun Mahathir and Tun Mahathir also has a short video to support this candidacy. Therefore, we consider it a great challenge that even with the Independents, we fought hard.
"One of the lessons we learned from this election was how effective the use of social media to reach the 8,500 voters, whom the majority of them came home knowing about the importance of the Chini by-election.
"Also, the big mandate is a big boost to the state governmen, the menteri besar and the ministers to help develop the Chini constituency," he told the media in Paloh Hinai on Saturday night.
BN candidate Mohd Sharim Md Zain secured 13,872 votes and Tengku Zainol Hisham who used the house logo got 1,222 votes. Another Independent using the key logo, Mohd Shukri Mohd Ramli, managed to get only 137 votes.
Both of these Independent candidates lost their deposit because they failed to get more than 1/8 of the total votes cast by voters. It is clear that BN only expects a majority of about ten thousand votes based on the current situation.
"We expect a majority of just ten thousand, but when we get 12,650, thank God, that's a huge success compared to the majority before. And this proves that Barisan Nasional is not only exists on paper but it is a political reality. In the past (GE-14) PAS had five thousand more, ten thousand more BN votes," he said.
Ahmad, who is also Pontian Member of Parliament, thanked the entire BN and PAS machinery and other BN friends.
Commenting further, Ahmad is confident the new Chini assemblyman will perform well.
"I see him as an immediate learner and a critic, and a respectful parent and leader. During my campaign with him, I saw the quality and I believe he has set up a good committee in the Chini constituency with the help of other Pekan UMNO leaders.
"I always reminded him that there must be confidence in the BN government in Pahang and the central Perikatan Nasional. And these two governments will help him, "he said.
In addition, Ahmad also thanked all voters, especially those who are willing to return to the village to fulfill their responsibilities as voters. – UMNO ONLINE