TANJUNG MALIM, Aug 30  – Umno secretary-general Datuk Seri Ahmad Maslan said Barisan Nasional victory in Slim by-election proofs how BN is still relevant and always a darling to the rakyat.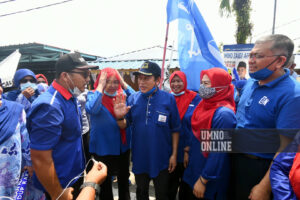 "All praises to God, this is the seventh victory, and if there are allegation that BN is no more relevant, they have to think twice as this shows how the party is still relevant and is deep in the heart of voters and the people. Thank you to the voters and the party workers," he told Umno Online.
He hoped the victory will be translated in Sabah state elections.
"We hope it gives us new zest to a victory in Sabah. I will be with the president and other leaders from Monday in Sabah to make necessary preparation," he said. He is also Member of Parliament for Pontian.
Slim by-election was held following the death of Datuk Mohd Khusairi Abdul Talib on July 15.