TANJUNG MALIM, Aug 29 – Barisan Nasional (BN) Chairman and UMNO President Datuk Seri Dr. Ahmad Zahid Hamidi hopes that BN's continued victory in the by-election (PRK) series will be translated into the Sabah State Election (PRN) which will take place in September.
He said BN victory in also proves that the people actually missed the BN/UMNO administration, let alone now together with PAS which formed the National Consensus (MN). "This victory shows that the voters' longing for BN has been healed and this is what we will translate later in the Sabah PRN and also the 15th General Election (GE-15) later."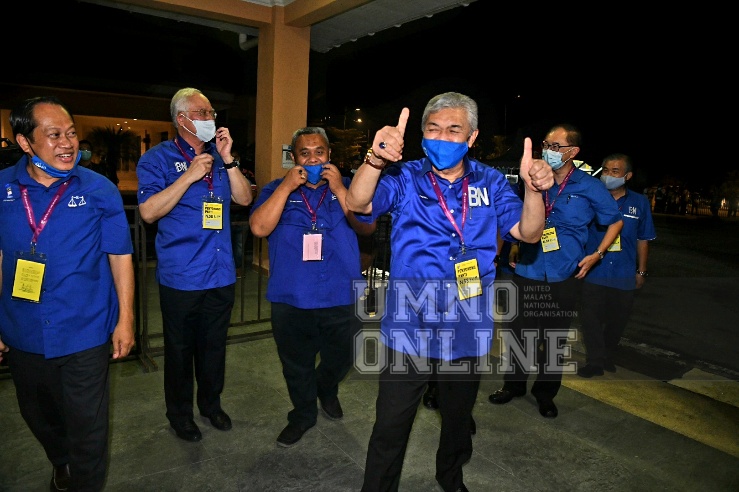 "If it (GE) is held, God willing, we will not be arrogant lose our heads because we want to continue attracting the support of the people… we will do our best," he said.
Zahid said this when met by the media after the announcement of Mohd Zaidi Aziz's victory, at Dewan Seri Tanjong, Tanjung Malim District Council here, today.
He also expressed his appreciation and gratitude to all voters and machinery who have declared victory in all 13 Voting District Centers (PDM) of which six of them were lost in the last GE-14.
Apart from that, Zahid also instructed Mohd Zaidi to become an elected representative who can meet the demands of the community by providing the best service as done by the late Datuk Mohd Khusairi Abdul Talib.
The Slim by-election today saw a three-cornered contest between BN candidate Mohd Zaidi and two independent candidates, namely lawyer Amir Khusyairi Mohamad Tanusi from Parti Pejuang Tanahair (Pejuang) and former teacher, S. Santharasekaran.
Slim DUN seat is vacant following the death of Mohd Khusairi Abdul Talib on 15 July. In GE-14, he defended the seat with a majority of 2,183 votes defeating the PPBM candidate contesting on PKR ticket, Mohd Amran Ibrahim, and PAS' Muhammad Zulfadli Zainal.
The by-election also made history as the second election taking place in a new normal following COVID-19 pandemic after the Chini by-election last month.