TANJUNG MALIM, Aug 30 – Barisan Nasional (BN) Deputy Chairman Datuk Seri Mohamad Hasan expressed his gratitude for BN victory in defending the Slim State Assembly (DUN) seat and thanked voters and the entire party machinery.
According to him, the victory shows that the people are still feeling the pain under the previous Pakatan Harapan (PH) administration for 22 months.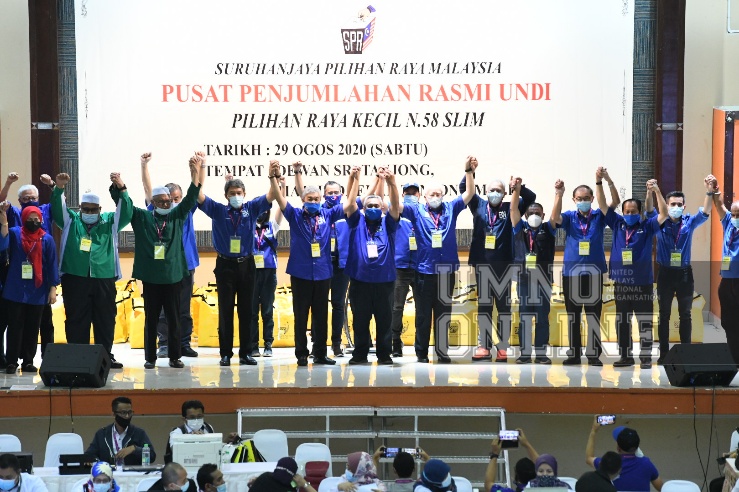 Voters' rejection for the opposition parties, especially the newly formed Pejuang was so significant.
"It seems that the people's support is unattainable. So Alhamdulillah, I express my gratitude and thanks to all the voters who gave support to BN in this by-election, " he told the media at the Slim DUN by-election counting center, Tanjung Malim District Council, here, last night.
Mohamad further hoped that the pattern could be maintained for the Sabah State Election (PRN) and the next General Election (GE).
"We hope this 'pattern' will be maintained, Sabah PRN will be held next month, so BN and its partners will have to work hard because this state election will also have an impact on the GE," Mohamad, who is also Umno deputy president, said.
BN defended the Slim State Assembly (DUN) seat with a large majority when its candidate Mohd Zaidi Aziz defeated two other independent candidates with a majority of 10,945. He defeated Amir Khusyairi who used the tree symbol and Santharasekaran (book symbol).
The result was announced by the returning officer Shamsul Ridzuan Idris at the Tanjung Malim District Council Hall.
Mohd Zaidi got 13,060 votes, while Amir Khusyairi  2,115 votes and Santharasekaran 276 votes.
With that victory, BN continues to retain the Slim DUN seat and what is certain is the task and trust awaiting Mohd Zaidi Aziz as the new Slim DUN assemblyman.
The by-election was held following the death of its incumbent Datuk Mohd Khusairi Abdul Talib on 15 July.