THE DATE 16 September each year marks the birth of a nation called Malaysia in 1963 with the merger of Sabah and Sarawak into Malaysia. The late Tunku Abdul Rahman while reading the Malaysian Proclamation in front of about 30,000 people at Stadium Merdeka said, among others:
"In the name of Allah the Most Gracious and the Most Merciful, I, Tunku Abdul Rahman Putra ibni Almarhum Sultan Abdul Hamid Halim Shah, Prime Minister of Malaysia with the consent of His Majesty the Yang Dipertuan Agong, His Royal Highness the Sultan of Singapore, His Excellency Speaker of Sabah and His Excellency the Governor of Sarawak, hereby declare on behalf of the people of Malaysia that from the Sixteenth day of September in the year 1963 or 28 Rabiulahkir 1383, Malaysia comprising the states of Pahang, Terengganu, Kedah, Johor, Negeri Sembilan, Kelantan, Selangor, Perak, Perlis, Penang, Melaka, Singapore, Sabah and Sarawak, with the grace and will of Allah Rabbul–Alamin, will remain a democratic state that is fully independence and sovereign, based on freedom, justice and always defend and preserve the peace and friendliness of its people and maintain peace among all nations in this world…"
In conjunction with Malaysia Day, let us all take care of its security and sovereignty.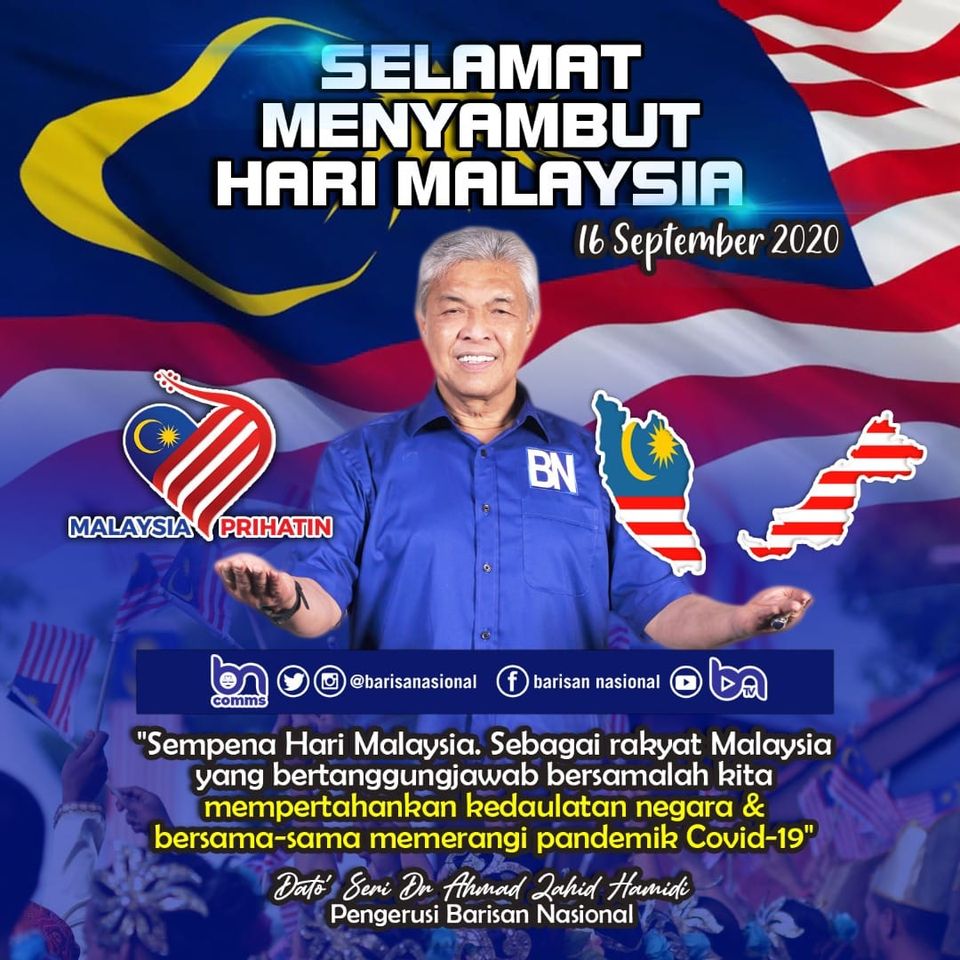 Malaysia Day is not just a slogan, it goes much deeper. It must be defended at all times based on UNITY as a pillar that binds us as one.
We must embrace politics of unity and eliminate the politics of hatred, politics of revenge and the politics of 'asobiah' which are detrimental.
No more slogans that 'Sabah is only for Sabahans', 'Sarawak for Sarawakians' and 'Peninsula for the people of the Peninsula' but we are all peace-loving Malaysians.
Let what Allah says in Surah Al-Hujurat verse 13 which means:
"O mankind! We have created you male and female, and have made you nations and tribes, that you may know one another. The noblest of you in the sight of Allah is the most pious of you. Indeed, Allah is All-Knowing".
Happy Malaysia Day to all citizens who love UNITY and PEACE. May Allah SWT continue to bless MALAYSIA.
#UMNOBangkit
#UMNOjagarakyat
#MUAFAKATbawaBERKAT
Dato 'Seri Dr Ahmad Zahid Hamidi
Barisan Nasional Chairman
UMNO President