The British defeat to Japan in Tanah Melayu had awakened the Malays that the British might was not up to expectation.
This was used wisely by UMNO to navigate the struggle for Independence. It also put the Malayan Union to an end.
In its quest to free the nation, UMNO machinery was strengthened, among which was to get the participation of the youths with the establishment of a youth wing on August 26, 1949 in Butterworth. The conference decided to name it Perikatan Pemuda UMNO and picked Kapten Hussein Onn as the first chief. On August 1950, the leadership was passed on to Tun Abdul Razak after Hussein was appointed UMNO secretary-general.
The most historical event took place at Pemuda's first six-month meeting on February 14, 1951 when it changed the slogan 'Hidup Melayu' to 'Merdeka'. The 'Hidup Melayu' slogan was officially replaced by 'Merdeka' during the party's General Assembly on 25th and 26th March 1951.
On March 25, 1951, Tun Sardon Jubir was made the Pemuda chief and as a hardworking person he travelled to every party of the country to mobilise the Malays' support for UMNO and Independence.
During a conference in Alor Star in September 1953, UMNO Youth had applied pressure on members of the party Federal committee to vacate their seat if the British refused to call for a general election in 1954. It didn't take place due to short notice. Besides, Pemuda raised the issues of economy, education, Bahasa Melayu as the official language, Islam as the official religion and others that are Malay-centric.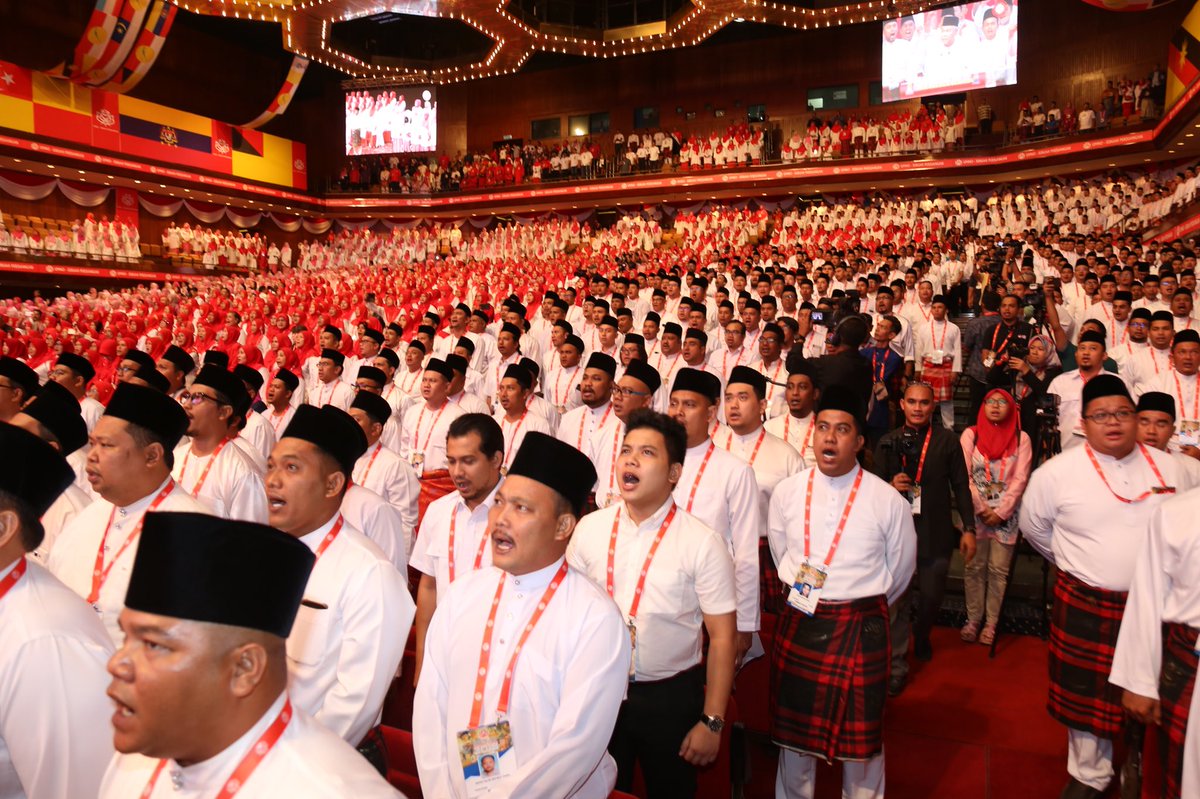 At the party EGM on December 26 and 27, 1955, Pemuda's motion for the date of Independence on August 31, 1957 was approved and a Perikatan entourage led by Tunku Abdul Rahman Putra al-Haj departed for London in 1956 to negotiate Independence of Malaya with the British.
In December 1955 as a result of amendment to the party constitution, 'Perikatan Pemuda UMNO' changed its name to Pergerakan Pemuda UMNO to show how the movement has grown and carrying out heavier tasks of uniting the rakyat, producing ideas and campaign to fortify the nation in bracing the confrontation onslaught by Indonesia's Soekarno who was against Malaysia confederation.
Pemuda leadership chose Datuk Senu Abdul Rahman after the 1964 general election.
The UMNO wing stepped up activities by organising workshop nationwide that it got the 'Pemuda Tahan Lasak' tag. Efforts to attract more Malay youths to the party was given top priority, besides emphasis on new mindset among the Malays, which paved the way for 'Revolusi Mental' or Mental Revolution in 1968 which was published as a book not long after. The book carries references on how the Malays should think and keep abreast with changes in every life discipline.
Following their vigorous economic offensive program, a company named Talasco (Tahan Lasak Company) was formed and Pemuda Exco Datuk Shariff Ahmad was made the first chairman.
On 1st of January 1970 Datuk Ali Hj Ahmad was named acting chief following Datuk Senu appointment as UMNO sec-gen. The 1969 general election saw communal conflict which prompted Pemuda to adopt a radical approach. In 1971, Datuk Harun Idris took over the helm of Pemuda and turned it into a pressure group for the people. The year 1976 was a black episode for Harun, forcing him to vacate his seat and Datuk Mohamad Rahmat was made acting Pemuda chief.
Tan Sri Syed Jaafar Albar won the seat in 1976 party elections. At 62, he is known for shaping up Pemuda to be more aggressive and daring. Some called Pemuda as a 'ginger group' during his tenure. He died on January 14 1976 during a Pemuda Johor meeting in Muar.
He was replaced by Datuk Suhaimi Kamaruddin until 1982 delegate conference. He introduced 'actiion era' (Era Bertindak) that draw interest of many. Among which were loopholes in the judiciary system and wrongdoings to the implementation of New Economic Policy (NEP) and Universiti Merdeka.
At the 1982 General Assembly, the youth leadership came under the stewardship of Datuk Seri Anwar Ibrahim. It was during his era that Pemuda embraced went offshore by taking predicaments of the rakyat to international level and adopted an Islamic-centric policy. He also made the Pemuda leadership at all levels to rally behind him via various workshops, seminars and nation-building activities.
Pemuda was later on led by Datuk Seri Najib Tun Razak from 1987 to 1993 (acting in 1987). It then went on to Tan Sri Rahim Tamby Chik (1993-1994), resumed in January 1996 until October 1996. Since 1994 to 1996, Datuk Seri Nazri Aziz acted for him following a criminal investigation on Rahim. Datuk Seri Dr Ahmad Zahid Hamidi took over in 1996 until 1998. He later resigned and Datuk Seri Hishammuddin Hussein was made Pemuda chief (acting) till 2000 before assuming as Pemuda chief from 2000 until 2009. Khairy Jamaluddin was later appointed as Pemuda chief on Mac 2009 till June 2008.
PEMUDA UMNO CHIEFS
Tun Hussein Onn (1949 – 1951)
Tun Abdul Razak (1951)
Tun Sardon Jubir (1951 – 1964)
Datuk Senu Abdul Rahman (1964 – 1971)
Datuk Harun Idris (1971 – 1976)
Tan Sri Syed Jaafar Albar (1976 – 1977)
Datuk Hj. Suhaimi Kamaruddin (1977 – 1982)
Datuk Seri Anwar Ibrahim (1982 – 1987)
Datuk Seri Najib Razak (1987 – 1993)
Tan Seri Rahim Tamby Chik (1993 – 1994)
Datuk Seri Dr. Ahmad Zahid Hamidi (1994 – 1999)
Datuk Seri Hishamuddin Hussein (1999 – 2008)
Khairy Jamaluddin (2008 – 2018 )
Dato' Dr. Asyraf Wajdi Bin Dato' Dusuki (2018 – Kini)
Our Elected
Representatives
Lorem ipsum dolor sit amet, consectetur adipisicing elit, sed do eiusmod tempor incididunt ut labore et dolore magna aliqua. Ut enim ad minim veniam, quis nostrud exercitation ullamco laboris nisi ut aliquip