TUN Mahathir has accused Tan Sri Muhyiddin Yassin (TSMY) betraying him and the party just because Tun assumed that the prime minister post is only for his domain forever.
The time has come for him to admit that the rejection towards him was his own doing. He fell into his own trap. Didn't Tun resigned for refusing to work with UMNO-PAS?
However, at the same time, his Members of Parliament were the ones who nominated Tan Sri Muhyiddin as the 8th prime minister, and not Datuk Seri Anwar Ibrahim although that was Pakatan Harpan initial agreement.
When TSMY was ready to take oath as a prime minister, why was he labelled as traitor?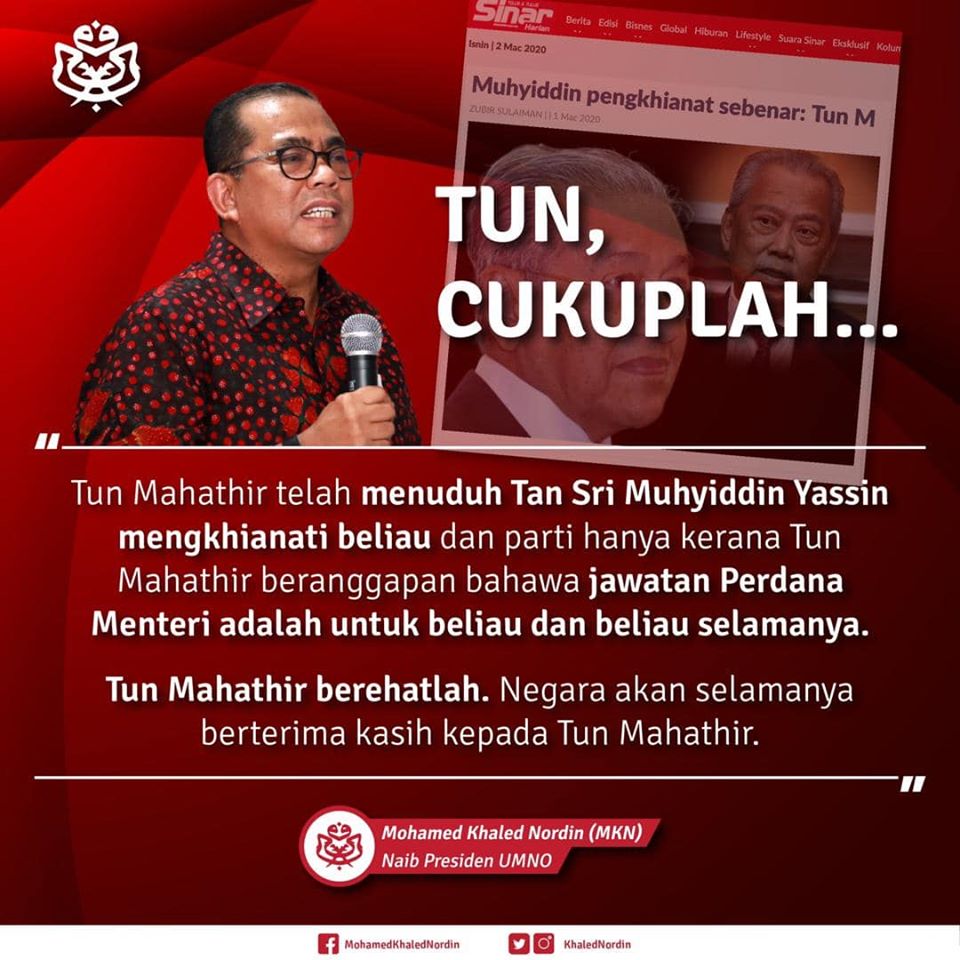 Tan Sri Muhyiddin only emerged during the stand-off situation which saw Mahathir failed to orchestrate his drama well.
In fact, Dr Mahathir should appreciate Muhyiddin's position after he quit as the prime minister and as chairman of Bersatu abruptly.
The party was in shock and lost direction. However, it was Muhyiddin who make BERSATU members to come together and remained united wyhen the country was facing a political caused by Mahathir.
In this situation, UMNO and PAS decided to support TSMY although both parties have a superior number of seats against Bersatu.
Its common for Mahathir to put the blame on others, except for himself.
But he really loses unexpectedly to Tan Sri Muhyiddin this time around.
Sesungguhnya manusia merencana, tetapi rencana Allah The Almighty is the Most Powerful and mysterious.
To Tun, just let TSMY steer the country while he takes a good rest. The country owes its gratitude to Tun forever. His contribution to the people and country will be well remembered.
Give time and space to this new politics to administer the nation. I am convinced the future of TSMY government will be in a slalom. It is not going to be easy as many challenges must be attended to.
As to whether the 8th prime minister is able to weather it, let the people judge him. As at now, we are sure that he will delivery the very best for Malaysia, as Tun had observed during his tenure.
To all Malaysians, let's pray and give full support to our new prime minister Tan Sri Muhyiddin Yassin.
Datuk Seri Mohamed Khaled Nordin
UMNO Vice-President